11 Oct 2013 - 17:30
Dublin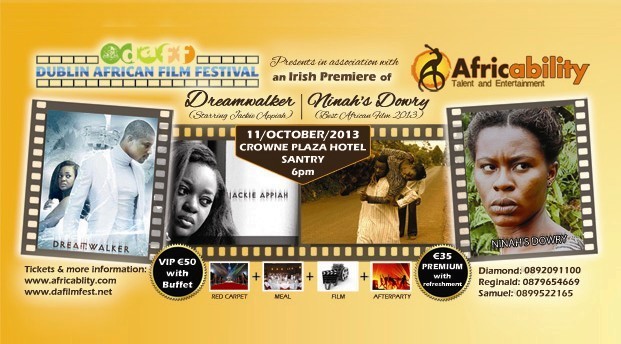 Dublin African Film Festival, in association with Africability invites you to an Irish Premiere of two great movies from the continent of Africa.
From Nollywood: Dreamwalker (Starring Jackie Appiah) – See the trailer
From Cameroon: Ninah's Dowry (A.M. Academy Award winner of Best African Film 2013) – See the trailer.
Dreamwalker deals with the elusive issue of Spirit Husbands and features the famous Pastor Chris Ojigbani. Ninah's Dowry is Victor Viyouh's multi award-winning film that tackles the age-old problem of domestic violence and features epic performances by Anurin Nwunembom and the amazing Mbufung Seikeh.


Call it an exciting night-out with your loved one and the Stars. €35 (Premium) or €50 (VIP).
Walk the red carpet with the stars
Enjoy a delicious and scrumptious buffet OR refreshments (depending on ticket category)
See two of the best movies from Africa
Enjoy exhilarating dance and musical performances from what is best of black and Irish
Join the after party and shake your body!

Please use the booking form below to make a reservation or contact:
Email: info@africability.com; info@dafilmfest.net; dafilmfest@gmail.com